2007-05-30 12:53:07
Evil Mastermind Shirts
T-Shirts and Wii Systems at Tech-Ed
Next week at Tech-Ed we will be handing out T-shirts just as we did at SD West. The deal is the same as last time:
Free shirt for anybody who visits our booth (while supplies last)
Sizes from S through XXXL
Wearing the shirt makes you eligible to get a ticket to one of our four Wii prize drawings.


(Must be present to win. Must be wearing an Evil Mastermind T-shirt. SourceGear employees not eligible.)
The "Other" Way get an Evil Mastermind shirt
For those of you not attending Tech-Ed, my previous shirt offer is still available:
You can't "buy" these shirts with money, but the shirts are nonetheless not completely free. The people at the trade show receive a shirt and pay for it by wearing it around the conference. You can receive a shirt if you agree to provide "payment" using the following method:
Take a picture of yourself wearing the shirt. For an example of the proper pose for the photo, follow the excellent example set by Craig Andera.
If you have a blog, post the photo there, including a link back here to my blog.
Send us email with the photo (or a link to your photo on your blog), granting us permission to use the picture.
Currently this is the only form of payment we can accept for an Evil Mastermind shirt.
If you want one of these shirts according to the terms above, send an email to evil-mastermind-shirt@sourcegear.com with your shipping address and preferred shirt size.
While supplies last. Offer limited to the United States and Canada. Offer void where prohibited, taxed or restricted. No purchase necessary. Shown with optional equipment. Financing requires credit approval. Not all buyers will qualify. Allow 4-6 weeks for delivery.
Pictures from Previous Shirt Recipients
We've sent out quite a few of these shirts already, and the pictures are starting to roll in. Paul has set up a photo album to collect them together for all to see. Some of the photos are quite ... creative. :-)
The current award for the most disturbing photo goes to Robin Debreuil for this clever piece of Photoshop work: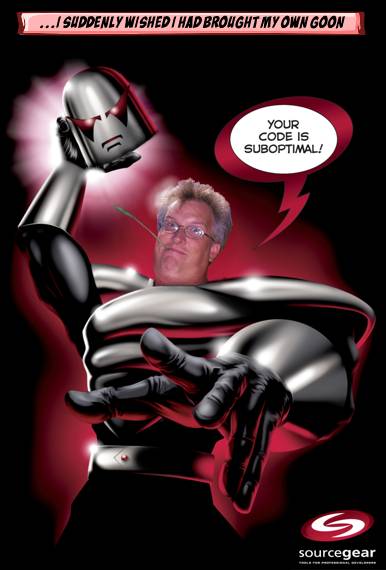 Perhaps I should not be surprised, but every time I see this picture, I just can't believe he did it. :-)