2007-05-31 15:02:39
SourceGear's first full-length comic book
The Evil Mastermind comic series continues to move along:
Episode 3

(2.8 MB PDF)

is a play on The Matrix. I love the artwork on the shot of the Evil Mastermind as Morpheus sitting on the red leather chair.
Episode 5

(1.7 MB PDF)

alludes to Fight Club, one of my favorite movies.
But I think Episode 4

(1.8 MB PDF)

is my favorite comic of the ones we've released so far. The notion of implementing source control as a bunch of filing cabinets is just funny.
But the problem with these one-page ads is the limited space. Even though each ad is part of a 12-story arc, we also need each one to be self-contained. Ever since we created this comic we have been wanting to do a longer story.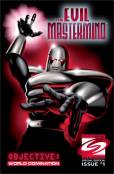 So we did. Next week at Tech-Ed, we'll be distributing a comic book, 20 pages printed in full color. This one is just for fun. The book contains some ads for SourceGear products, but the story itself has nothing to do with version control. It's just a comic book adventure about The Evil Mastermind and his geek minions on a special mission.
And for those of you who will not make it to Tech-Ed, you can download the comic book here (5.2 MB PDF). :-)
Enjoy!