2007-12-13 19:34:51
Exception Handling in Running a Business
I'm going to the Rose Bowl.
I am a University of Illinois alum and an avid fan of college sports. The Illini football team had a great season this year and will play USC in Pasadena on January 1st. In fact, this is the just the second time in my lifetime that Illinois has made it to the Rose Bowl. For those of us here in central Illinois, this is a really big deal. Who knows when it will happen again?
So last week when the University started selling tickets, I placed my order. A few days later I received confirmation that I was going to actually get the tickets I had requested. That email said:
"tickets will be shipped to the address listed above via UPS Overnight Delivery"
I laughed out loud. UPS Overnight? I live right here in Champaign-Urbana. The University of Illinois Athletic Ticket Office is less than two miles from my office. Surely I could just go over during my lunch hour and pick them up?
No, I suppose not. These folks are trying to process orders for over 25,000 tickets and they have very little time to do it. They probably just want to have one standard method of handling them all. Dealing with the special cases would slow everything down.
The next day I got email from UPS with a tracking number for my tickets: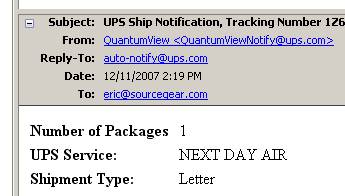 Sure enough -- my tickets were being sent 1.8 miles by "Next Day Air". At this point, I fully expected that this envelope would be traveling across town by way of O'Hare.
Much to my surprise, UPS actually figured out that it was already in its destination city: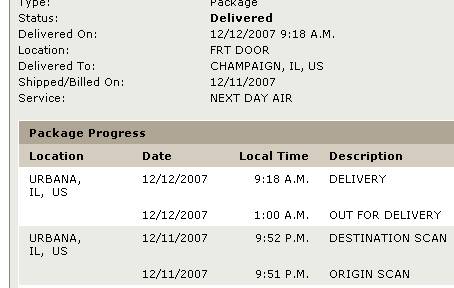 So, let's review: Both the University and UPS faced a situation which was somewhat of an exception to their normal workflow. One of them treated the exception as a special case. The other one did not.
And in my opinion, both of these organizations did exactly the right thing.
I think one of the toughest parts of running a business is dealing with all the exceptions. These things never get much attention at the genesis of a company. We write our business plan and we try to figure out how we're going to handle everything from customer issues to staffing issues to bugs to parking. But then life hands us a diversity of circumstances we never expected.
One of your staff needs to have surgery but they've used up all their leave days.


Your biggest customer wants you to add a special feature that won't be useful to anybody else.


The policy says anybody who purchased on or after June 17th will get the upgrade for free. The guy who bought at 10:00pm on June 16th is on the phone.
Sometimes the right thing to do is to handle the situation as a special case, even if doing so takes extra time.
And sometimes, it's best to just shove everything into the meat grinder and let sausage come out the other side.
But how do we know which approach to use for a given situation? The issues in play can include fairness, cost, ethics, focus, and so on.
And when is the time to realize that a certain kind of exception is happening often enough that it's worth defining a way to handle it?
I don't have any silver bullet answers for these questions. In entrepreneurship, there is no substitute for good judgment.
Just keep in mind that exceptions are going to happen, and how we navigate them can be a major definer of our success in business. Pay attention, and use common sense.